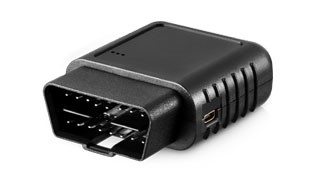 E-DRIVE OBD GPS Tracker
The E-Drive is a plug-and-play OBD GPS tracking device which supports accurate fuel management and remote diagnostics for both for light and heavy vehicles supporting OBDII or CANBUS protocol. Used in the industries such as Vehicle Recovery, Fleet and Logistic Management and Insurance Telematics.
 Key features:
● OBD GPS Tracker dongle;
● Small size and compact design;
● OBDII and CANBUS protocol;
● DC 12V and 24V;
● Internal GSM and GPS antennas;
● TCP and UDP;
● Update firmware over the air;
● Collect accurate location, speed, mileage and fuel consumption data;
● Illegal start-up, impact and rollover alarm;
● Detect harsh acceleration, braking, turn and high revolution;
● Driving behaviour recording and optimization;
● Remote diagnosis;
● High performance communication (GSM or CDMA) module and sensitive GPS (Galileo and S-base) with high-performance NXP ARM MCU;
● Store break points data in non-volatile memory;
● Three LED indicators: power, GPS, GSM;
● Track on Google map and other maps;
● Smart phone APP (Android and iOS) and web-based management software;
● SIM card slot or built-in SIM chip;
● Auto sleep mode to save automotive power;
● Wide working temperature range: -30 to +80℃.